Saturday, April 22, 2023 10am-2pm
at Takoma Park Middle School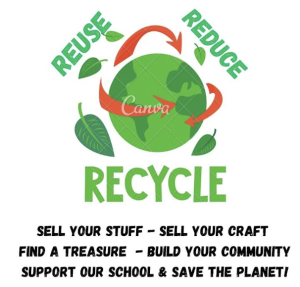 Get ready for one of the best fun-raiser and community building events of the year supporting TPMS students and teachers!
Donate Items:
Donate "in good-condition" items to be sold by the students.

We will accept donations from the larger community to sell (100% of proceeds from all donated items will go to the PTA). 

What can you donate? 

Household goods, clothing, baby items, games and toys.

Items should be in good-condition or better.  

We do not have the capacity to recycle or throw away items that are in poor condition.  Please do not donate them to us. 

No books, please!

How to donate: We will be collecting donations at Takoma Park Middle School on Saturday, April 15th from 9am – 11am
Participate as a Vendor:
Crafters and Artisan Vendors – Rent a space, sell your stuff.  

Spaces cost $25, you keep the profits

, the rental fee contributes to our fundraiser.

Vendors can donate a percentage of your profits.  Vendors who express this intent will receive a special badge so buyers know the vendor is supporting TPMS.

Vendors must provide their own table, blanket, displays, etc. 

What can I sell?  Vintage items, crafts, art, food, etc.
Help make it happen:
Join the event committee – Contact Jamie Iwugo by email: TPMSevents@gmail.com

Advertising/promotion

Reaching out to crafting communities

Kid volunteer coordinator

Formal wear coordinator

Collections coordinator (coordinating people who can collect and sort donations as they come in)

And/or Be a volunteer – Contact Jamie Iwugo by email: TPMSevents@gmail.com

Kids – Before, during event, and after event cleanup opportunities – for SSL hours.

Adults – Before, during event, and after event cleanup opportunities.  https://forms.gle/pbei2TTT2FKwhbYd8